Brittney Griner is finally coming home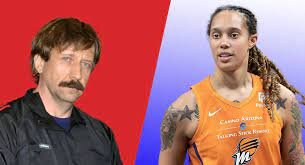 The news of WNBA star Brittney Griner's release from Russian custody circulated social media like a firestorm, met with mixed emotions from people who seemed to have completely forgotten about Griner's existence until now.
Griner was arrested in Russia when agents found cannabis vape cartridges in the basketball player's luggage. She was sentenced to nine years behind bars in a Russian prison but was released on Thursday, December 8th, in exchange for Victor Bout, who was sentenced to 25 years in federal prison for supplying known terrorists with weapons to kill American soldiers.
Also on the table in exchange for Bout was U.S. Marine Paul Whelan, who was arrested in Russia on accusations of spying in 2018. The Joe Biden White House confirmed, however, that the deal with the Russian government was a one-to-one exchange for Griner alone.
While Whelan's imprisonment should be a top priority for Biden's administration, the Whelan family released a statement celebrating Griner's coming now.
"There is no greater success than for a wrongful detainee to be freed and for them to go home. The Biden Administration made the right decision to bring Ms. Griner home, and to make the deal that was possible, rather than waiting for one that wasn't going to happen."
Nobody deserves to be locked behind bars for possession of a plant, and Griner's release should motivate Biden's administration to push harder for the release of those who remain locked up in state institutions for nonviolent marijuana offenses domestically.
While social media responses to Griner's release were mixed, many users seemed to agree that the WNBA star's punishment was too harsh and that Russia may have received the better end of the deal. Despite the negative backlash and the constructive criticisms provided, Griner is home safely and the "Merchant of Death" is on his way home to Russia.