Gov. Youngkin dodges questions on retail marijuana sales bill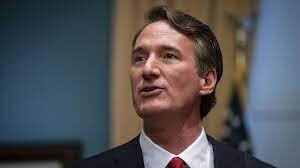 Governor Glenn Youngkin of Virginia has refused to comment on whether he will sign a bill that would pave the way for retail marijuana sales in the state. Instead, he said he was focused on setting regulations for hemp and delta-8 products.
Presently, Virginia law allows adults 21 and older to possess up to an ounce of cannabis for recreational use, but there is no way for them to purchase it legally. The General Assembly has proposed bills in the 2023 legislative session to create a retail cannabis market in Virginia.
When asked if he would sign such a bill into law, Youngkin told reporters he was more concerned with regulating the sale of hemp and delta-8 products, which are largely unregulated. He said these products were being mislabeled, mis-sold, and targeted toward children which is why he wanted to ensure consumer safety before signing anything into law.
Under Virginia's current law, adults can grow up to four marijuana plants in their homes, receive cannabis as a gift, or buy it from a medical dispensary with a license.
House of Delegates Speaker Todd Gilbert (R-Shenandoah) said that Republicans are waiting for guidance from Governor Youngkin on establishing a retail cannabis market before pushing forward with any bills. As such, the Republican bills have yet to be heard.
The bill proposed in the Virginia Senate to establish a retail market passed out of the chamber last year, but is unlikely to pass through the Republican-controlled House subcommittee due to the lack of "social equity" provisions that Democrats prioritized during legalization debates.
Republicans have traditionally rejected "social equity" provisions in legalization legislation, which are aimed at addressing the harm done to marginalized communities due to the war on drugs. This is a major reason why Republicans oppose these bills - they do not agree that it is the job of the government to pick winners and losers. As such, Republican-controlled legislatures across the country have put up roadblocks to the legalization of marijuana that would include social equity provisions.
At this stage, it remains unclear whether Governor Youngkin will sign the bill into law. Until then, Virginia's regulated marijuana industry will remain firmly in limbo.