PA Senate candidate Dr. Oz suggests marijuana is contributing to unemployment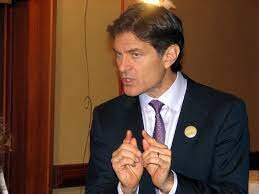 Dr. Mehmet Oz, the Republican candidate for the United States Senate in Pennsylvania, had a hard time securing his victory against candidate David McCormick on Tuesday, May 17th, and will have an even harder time securing support from advocates for marijuana legalization. Dr. Oz is no fan of legalization in PA or nationwide, and has been vocal of his opposition on the campaign trail.
"There are not enough Pennsylvanians to work in Pennsylvania, so giving them pot so they stay home is not, I don't think, an ideal move," he said during an interview with Newsmax host Greg Kelly. Dr. Oz believe that marijuana will hinder people's "mojo" in regards to getting back to work, and seemed to blame the unemployment rate partially on marijuana use.
Dr. Oz, who is a cardiothoracic surgeon and the former host of the Dr. Oz show, fears that Americans operating heavy machinery will largely be under the influence of cannabis. Other concerns involve the "Great Resignation," where many Americans decided they were not going to go back to work, not because they are high on marijuana, but because they believe they are not being properly compensated for their time and labor.
John Fetterman, who will face off with the Republican candidate, has been a vocal proponent for marijuana legalization since first launching his political career. On many occasions, he has used his position as Lieutenant Governor to urge Republican lawmakers in Harrisburg to legalize marijuana for adult recreational use.
Legalization is growing in popularity all across the country, and bills are currently being considered in the PA legislature that would achieve Lt. Gov. Fetterman's goals. Unfortunately for the Fetterman camp, marijuana legalization is not a top priority for all Pennsylvanians, especially those in rural areas who were hit hardest by Gov. Tom Wolf's lockdowns during the pandemic.
Will marijuana be one of the deciding factors in PA's U.S. Senate race in November? It's possible that legalization will drive voters in Pittsburgh, State College, and Philadelphia – the state's most liberal areas. As for rural areas, voters will not likely be mobilized by legalization alone.